Smith + Partners is committed to providing you with the best architectural design. We approach every project with a focus on aesthetics, functionality, cost, and structural engineering.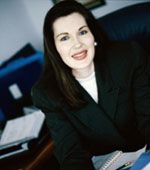 Nancy Smith
Nancy Smith has worked on many award winning projects throughout her career. She began as an independent architect in 1992 and was soon responsible for the design and construction oversight of Southern Anystate University's Main Hall. She is also responsible for the design of the Metro Regional Center, Shoppers Corners Mall, White oaks Resort, and the famous Thomas Jefferson Building in downtown Anytown. Nancy earned a Bachelor of Architecture degree from Anystate Technical Institute in 1989 and a Masters in Architecture from Southern Anystate School of Design in 1991.

Ms. Smith is active in a number of professional organizations including the Anytown County Chapter of the Architects Association, a member of the Anytown Society of Certified professionals, and a member of the Anytown Chamber of Commerce. Nancy treats every client with respect and integrity.
Greg Jones
Greg Jones is a Partner with Smith + Partners. He joined our firm in 1997, was named a Senior Associate in 1999 and named a Partner in 2002. Mr. Jones specializes in structural code compliance, project management, and construction coordination.

Prior to joining Smith + Partners, Mr. Jones worked with Acme and George Architects. While with the firm he was responsible for the oversight of major projects such as the Anytown Superscraper Towers and the BigTelCom Arena. Mr. Jones received his Bachelor of Architecture from the Anystate University.
Ben Franklin
Ben Franklin joined Smith + Partners in 2000 as an associate partner. Mr. Franklin specializes in Structural design and project management. He became a partner with Smith + Partners in 2004. He was responsible for the design of the Central Anytown Regional Library, the Utility Company Mega Tower in downtown Anytown, the Museum of Fine Art in Springfield, and was recently awarded a contract to design a new steel suspension bridge over Flowing River in Anytown.

Mr. Franklin earned his Masters of Architecture degree from Northern Anystate University in 1995.